Certified Sleep Consultants in The Bay Area
Our Sleep Coaches in San Francisco are here to help
The best aspects of parenthood can quickly be overshadowed by sleepy, stressed, and cloudy exhaustion! Despite the misconception that having a newborn or toddler always equals never-ending sleep deprivation, our private sleep coaching can redefine your family's path to a better night's rest!
Devoted to their clients in every way, our amazing sleep coaches continue to improve the lives of each family they support. With compassion and years of successful experience, our coaches provide gentle sleep training strategies that are easily integrated. Our private sleep coach continues to rewrite the stories for sleep-deprived families in San Francisco and the Bay Area!
Contact Us to Learn More!
Gentle Sleep Solutions Custom Tailored to Every Bay Area Family
When we say your entire family, we mean it! Our Bay Area sleep coaching services are here to support your family with simple steps that will benefit everyone living under your roof. With sleep-related benefits ranging from improvements in mood and memory to healthy immune function and baby development, our sleep specialists in San Francisco and the surrounding Bay Area can help your family:
Oftentimes, the best sleep plans only become reality with coordinated household teamwork. Our big-picture sleep consultants will help you organize a sleep-boosting routine that you, your baby, and your other children all benefit from.
Hand-in-hand with family teamwork, our sleep coaches will also help you build a stable and peaceful bedtime or naptime plan. With sleep-friendly elements like a soothing nursery atmosphere or the appropriate response to baby or child cues, developing and maintaining a healthful sleep routine can happen.
Our sleep training services in San Francisco and San Jose are always customized to you and rooted in research-based guidance. We only recommend sleep training methods that are proven to be gentle, safe, and approved. Instead of forcing a specific sleep schedule, we believe that the best sleep plans work in harmony with our body's rhythms for sleep wellness that develops the natural way.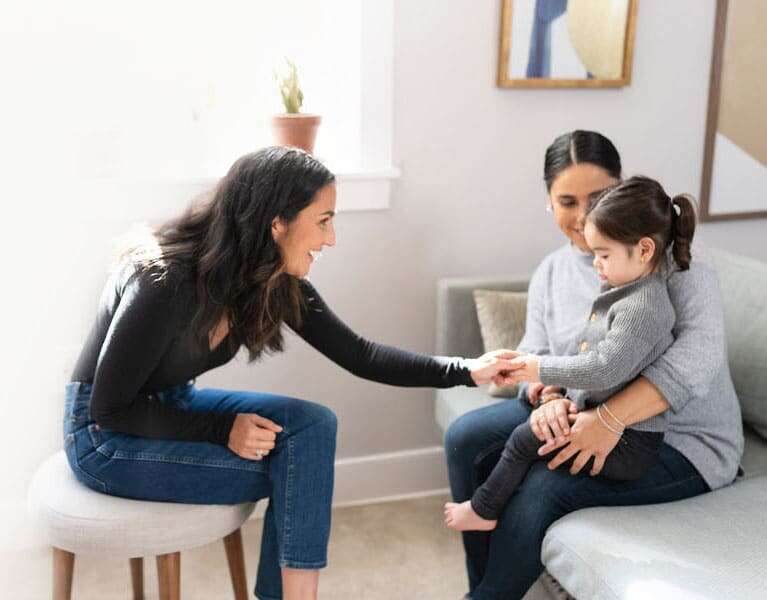 Find Sleep Training Tips That Work the Best for Your Family
No two newborns, babies, or toddlers have the same needs or sleep cycles. That's why our fluid approach to sleep training never involves the same recipe for success! During your first sleep consultant call in SF, you'll immediately notice that listening, helpful brainstorming, and relatable advice guide our approach.
Instead of rushing into recommendations, our sleep specialists in San Jose hope to become your constructive allies who are always here to provide real-time recommendations as your baby or toddler grows and changes. While the perfect nursery you've built may be promoting great sleep habits now, things can quickly change as your infant or toddler reaches certain milestones. And, as your routine and needs change, we'll be here to connect you with proven tips to resolve new challenges and prevent future ones.
To provide the best possible sleep coaching, our baby sleep consultants in NYC, SF, and PA also offer:
Accessible follow-up advice is always a phone call, email, or text away
Valuable sleep training resources to prepare for more sleep-related situations
In-home sleep trainer support to learn, observe and improve upon all aspects of your restful environment and routine
Affordable packages for ongoing guidance and so much more…
Contact Us If You're Interested in Sleep Training Services in San Francisco or San Jose Today
If this is your first time considering sleep coaching, an in-home session can be the best way to evaluate and build a better sleep foundation from the start. Even if your baby is still on the way, our caring San Francisco team can help with every element of your nursery layout, baby sleep education, and so much more.
For more information about our gentle strategies or to schedule your first session, please tell us about your sleepy concerns today!